A selection of works by the talented young photographer Irina Grigoryan will appear at a small group show in Yerevan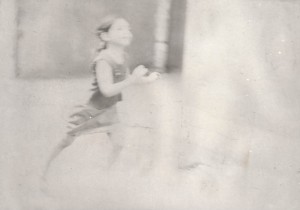 'A Very Simple Exhibition'. The other participants of the show are printmakers Mariam Hakhnazaryan and Lilith Arshakyan who will exhibit graphic works.
Irina was one of the youngest photographers to be included in 'Industrial Symphony: photography and the post-industrial age' exhibition which is currently on view at ACCEA (NPAK) in Yerevan until January the 28th. Her series of small black and white photographs called 'Gortsaranayin', impressed the jury of this show, who awarded it the second prize given by 'Lusadaran' foundation of Armenian photography.
Grigoryan's work has a special place in contemporary Armenian photography as she is one of the very few current practitioners who works with analog formats, printing all her work in the darkroom on gelatin silver paper. Typically for Grigoryan, the photographs included in 'A Very Simple Exhibition' explore ideas of childhood, femininity and memory.
The exhibition opened on the 27th of December at 'Yellow Street', Tumanyan 40-63 and will close on Friday, the 29th.