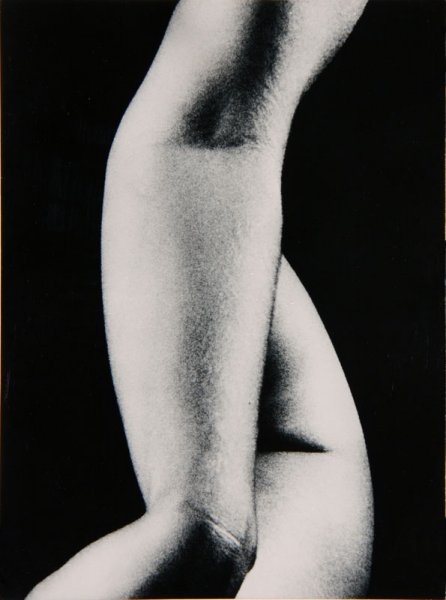 Unknown photographer
(Czechoslovakia)
untitled (abstract study of arms) 1960-70s
gelatin silver photograph, 24.2×18
Purchased 2011
Czech photography throughout the 20th century has attracted great scholarly and public interest due to its exceptional contribution to the development of modernist aesthetic. Early 20th century masters such as Frantisek Dritkol, Jaromir Funke and Josef Sudek have always been a part of the internationally constituted history of the photographic avant-garde. But according to Vladimir Birgus and Jan Mlčoch 'entire chapters of the history of Czech photography remain largely neglected'. This pertains particularly to works produced in socialist Czechoslovakia between 1950s and 1990.
This untitled figure study by as yet unidentified Czech photographer displays all the hallmarks associated with the last great modernist phase of Czech photography. Harsh contrast, grainy textures and extreme cropping push the human body into an almost completely abstract territory. This was a favoured device by many great Czech masters of the period – from Zdenek Virt to Eva Fuka. Employing a variety of approaches developed in earlier decades, these photographers created a unique aesthetic that transformed reality into a surreal realm. But unlike the classic surrealism, this was not an 'alternate' dream or subconscious universe. Instead these photographers expose the surreality unfamiliar inherent within the world itself by emphasising camera's monocular, liminal vision. In untitled, the familiar forms of arms are made strange and object like. The photographer deliberately disorients the viewer's gaze by not anchoring the image within space or context. This helps to open new, poetic perspectives on the most known and common form in life – the human body – liberating the perception from the tyranny of 'trained vision'.
As a fine example of one of the most important aspects of Czech photography – the exploration of the body – this masterful photograph is a significant addition to Lusadaran's collection.