Sex and pornography are not innocent, but can they at least pretend to be so? These and other everyday questions are addressed in Samvel Saghatelyan's exhibition 'Transromance', curated by Vigen Galstyan and opened at a private apartment in Yerevan on September 12, 2013 as a one-day event.
Composed of 11 mixed media photo-collages and one photocopy-collage, the series depicts the birth and development of a supra-male sexual fantasy.
Regarding body, gender and sexual desire as a cultural and political phenomenon, Saghatelyan attempts to find a small platform of pleasure and enjoyment in the cross-section of these issues. At this ambigous, liminal point, the abscence of clear positions and answers itself becomes a kind of a solution.
In the carnavalesque space of 'Transromance' power relations and sexual politics become masks – at once laughable, mutating, in a sense naive and in this particular game, always equal.
Referring to the underground and private apartment exhibitionս of the 1970s-80s Soviet period, the one-day presentation of 'Transromance' took place in a two bedroom flat in downtown Yerevan. Utilising this living environment, the exhibition transforms an ordinary domestic habitat into a laboratory of sexual myths.
The evening developed into a 'happening' as the over 100 visitors flooded in an out of the appartment until four am in the morning. Arthur Manukyan performed his renditions of Sayat-Nova on the guitar, conceptual artists put on impromptu performances and intellectuals took on the floor to give talks while guests debated the questions and ideas provoked by the show.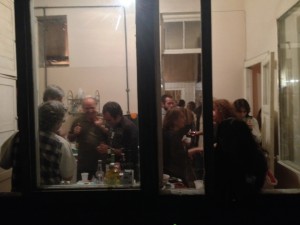 Սեքսն ու պոռնոգրաֆիան անմեղ չեն, բայց կարող են դրանք գոնե այդպես ձևանալ? Այս և այլ առօրյա հարցերին է անդրադառնում Սամվել Սաղաթելյանի 'Տրանսռոմանս' ցուցահանդեսը: Համադրված Վիգեն Գալստյանի կողմից, այն ներկայացվեց որպես մեկօրյա իրադարձություն, 2013 թվականի, սեպտեմբերի 12-ին, Երևանյան մի մասնավոր բնակարանում:
Կազմված իննը խառը տեխնիկայով արված ֆոտոկոլաժներից, շարքը պատկերում է գերտղամարդկային սեքսուալ մի ֆանտազմի զարգացումը:
Դիտարկելով մարմինը, գենդերը և սեռական ցանկության 'ծնունդը' որպես մշակույթային և քաղաքական երևույթ, Սաղաթելյանը փորձում է տվյալ խնդիրների հատման կետում գտնել հաճույքի և ազատության մի փոքրիկ հարթակ: Այս անորոշ, ապակողմնորշված և միջանկյալ կետում, հստակ դիրքորոշումների և պատասխանների բացակայությունը ինքնին ներկայանում է որպես լուծում: 'Տրանսռոմանսի' կառնավալային տարածության մեջ ուժային հարաբերությունները և սեռական քաղականությունը վերածված են դիմակների` միաժամանակ ծիծաղելի, փոփոխվող, ինչ որ առումով միամիտ և տվյալ խաղում` ընդմիշտ հավասարազոր:
Ակնարկելով սովետական շրջանի 1970-80 ականների 'բնակարանային', ընդհատակյա ցուցահանդեսները, 'Տրանսռոմանսի' մեկ օրյա ներկայացումը տեղի ունեցավ մասնավոր բնակարանում: Գործածելով այս 'ապրող' միջավայրը, ցուցահանդեսը վերծանում է կենցաղային տարածքը որպես սեքսուալ միֆերի լաբորատորիա: