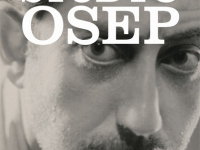 The life and work of one of Turkey's most foremost photographers, Osep Minasoglu (Hovsep Minasyan) has become the subject of a major Turkish-English bilingual book published by Aras Publishing House in 2009. As a studio portraitist and stills photographer, Hovsep Minasyan's work has a special place in the annals of Middle Eastern photography. Much like Van Leo in Cairo, Minasyan was able to articulate in visual terms the rapidly developing image of Turkish (or Istanbul) post-war popular culture. While the other great Turkish-Armenian photographer, Ara Guller focused on a Turkey that was quickly sinking into the past, Minasyan's joyful and flamboyant imagery embraces the shifting context of Istanbul's youth culture, music, cinema and increasingly westernised attitude to life.
Following is the press release from author Tayfun Serttaş's website.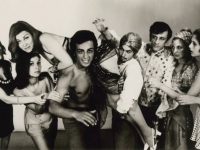 Stüdyo Osep brings into sharp relief Osep Minasoğlu's 80 years long life and history of photography, one of the oldest living studio and set photographers of Turkey. As a product of almost ten years of research, undertaken by Tayfun Serttaş at Osep Minasoğlu's archives, the book can also be read as the photographic encyclopaedia of Turkish republican history, with more than four hundred photographs it brings into light.
This work that reproduces Osep Minasoğlu's 80 years of life memory and 60 years of work memory, is composed of three sections; Biography, Retrospective and Witness. A total of 406 visuals have been used in the book; 253 in the Biography section, and 153 in the Retrospective section. Apart from instances where a source is cited, all visuals are from the Osep Minasoğlu archive. All statements by Osep Minasoğlu in the biographical texts are quoted from the oral history work and transcripts from interviews carried out by the author of the book.
Publishing House : Aras Yayınclık
Book Languages : Turkish – English
ISBN : 978-605-5753-08-5
Edition Date : 344 pages, 1st edition, October 2009
The book is available for purchase from http://www.arasyayincilik.com/