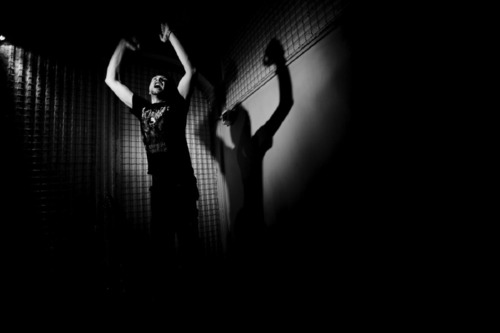 November 29, 2011 – January 22, 2012
Artist's reception: Tuesday, November 29, 2011, 7:30 p.m.
On November 29th an exhibition of Karen Mirzoyan's photographs of basement rock bands in Tehran, Iran, will open at The Half King in New York city. Shot over the week commencing the 31st anniversary of the Iranian Revolution, Rock the Casbah – Basement Bands in Tehran, looks at young men and women trying to play music as loudly and secretly as possible.
Karen explained his motives for creating the series by stating that he "went to Tehran to look at the anniversary of the Revolution. When I found rock musicians practicing in soundproof basements, I found people who are waiting for a second Revolution."
Karen and Sacha Lecca, senior photo editor at Rolling Stone magazine, will moderate a slideshow and discussion of Karen's work on opening night.
"Karen's images—of newspeak broadcasts, daily life, and the surreal, illegal undertaking that playing rock music in a theocracy entails—are a kaleidoscopic sampling of Tehran's public and private realms as the Revolution is observed," says curator Anna Van Lenten.
With seven million people, Tehran is Iran's largest and culturally most sophisticated city. Iran's Ministry of Islamic Guidance forbids rock music for its western (satanic) bent—a direct threat to cultural purity.
The Half King Photography Series is dedicated to showing exceptional photojournalism. In tandem with its reading series, The Half King fosters a dialog between photographers and writers that underscores the importance of their unique relationship. Co-curating its photography series are James Price, photo editor at Newsweek, and Anna Van Lenten, writer and editor.
Karen Mirzoyan (b. 1981) grew up in Tbilisi, Georgia and now lives in Armenia. In 2005, he worked at Panos Pictures and at The Independent in London. Primarily, his work is concerned with the culture and post-conflict societies of countries in the Caucuses. In 2010, he won Magnum Foundation's Caucuses Award and a scholarship to the NYU/Magnum Human Rights Program.